Good morning!
I own a lot of oils, sometimes I wonder where I found the time to get all of these items lol. I won't bore you with a list of my oils, but I would like to mention the ones in my rotation right now, a brief description and how and why I use them.
Argan Oil -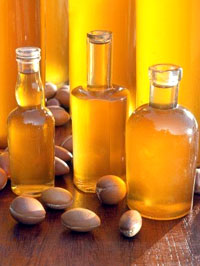 I am currently loving argan oil as a sealant in the summer time. It is super lightweight, has a light odor and is partially absorbed into the hair shaft so it is non-greasy. I also use it on my skin and on spots where I have eczema during the winter, but since it's been 90+ degrees, there hasn't been much of a need for anything other than baby lotion occasionally lol. I also mix a bit of argan oil into my pre-poo now, especially when I'm taking down any low manipulation styles (twists, twist outs, etc). Argan Oil is also a large component of my newly purchased Kinky-Curly Perfectly Polished Nourishing Hair Oil, the oil mixture is also very light and smells amazing, more on that soon ;).
Macadamia Nut Oil -
This oil is currently acting as hair sunscreen for this season :). This natural oil has an spf of 6 and has been doing wonders for keeping the outer layers of my hair smooth, soft and moist in the face of the brutal summer heat. A little goes a long way, and about 2 drops is enough to cover my hair's canopy. I recently purchased the Macadamia Natural Oil Healing Oil Spray (I saw it in a
GlamTwinz youtube video
), this spray contains silicone and macadamia oil, it's great for spraying over a rollerset or finisher for a twist out to keep your hair protected from the heat.
Coconut Oil -
This is my all time favorite oil. I use it for absolutely everything and I love everything about it lol. It smells like macaroons, is light enough to seal with, reduces protein loss, seals in moisture, smooths dry skin, can be used as a deep conditioner and for those of us with scalp conditions it soothes, protects and has anti-bacterial and fungicidal properties. Basically what I'm saying is, you can't really go wrong with coconut oil! Currently I'm using coconut oil as the majority of my pre-poo formulations as well as around my hairline to keep my seborrheic dermatitis happy. I also love using it during the week because it keeps my scalp smelling delicious between wash days.
Thanks for reading :),